THE 4th STAT4ONC ANNUAL SYMPOSIUM
Invited Session 5
May 8, 2021
1:45 PM – 3:15 PM Pacific Time
Racial Disparities in Clinical Research in Oncology - Challenges and Opportunities
Chair : Amanda Bruegl (OHSU)
Amanda Bruegl is a Citizen of Oneida Nation and is a Gynecologic Oncologist in the department of OB/Gyn at Oregon Health and Science University. She completed her fellowship in gynecologic oncology at MD Anderson Cancer Center and has been at OHSU since that time. She is the Associate Director of the Education Core for the Northwest Native American Center of Excellence, a recipient of the Robert Wood Johnson Harold Amos Minority Faculty Development Award, and has research interests in gynecologic cancer prevention in American Indian/Alaska Native women.

Dr. Foluso Ademuyiwa (Wash U)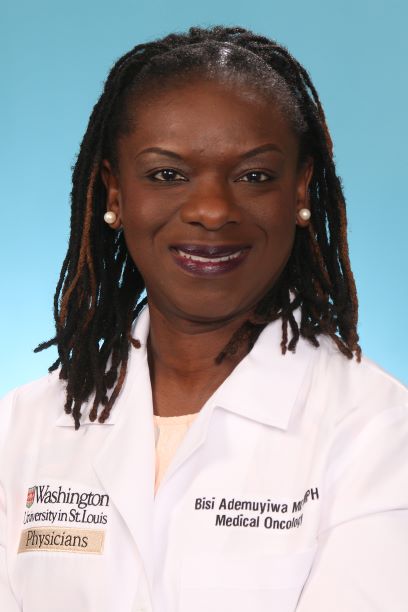 Foluso Ademuyiwa MD MPH MSCI is a medical oncologist and Associate Professor at Washington University School of Medicine (WUSM) in St Louis. Dr. Ademuyiwa earned a medical degree from the University of Ibadan in Nigeria, completed residency in Internal Medicine/Pediatrics at Bridgeport Hospital-Yale New Haven Health, and fellowship in Hematology/Oncology at Indiana University. Dr. Ademuyiwa is board certified in Medical Oncology. She serves as Principal Investigator for several investigator-initiated and cooperative group studies, and has authored more than 55 peer-reviewed articles. Her research is focused on racial disparities in breast cancer, and in designing and conducting innovative clinical trials in triple negative breast cancer. She is the Diversity & Inclusion Leader of the Hematology/Oncology Fellowship program at WUSM, and is on the Breast Cancer Research Program Leadership Steering Committee at WUSM. She has served on multiple grant review panels, including the AACR Breast Cancer Research Grants Scientific Review Committee and the Swiss Cancer League, and as an ad hoc manuscript reviewer for multiple journals over the years. In recognition of her clinical work, she has consistently been named as a "Best Doctor" in St. Louis for 2015 – 2020, and has been named as one of the 27 Top Breast Cancer Oncologists by Forbes in 2017.

Time : 1:45 - 2:05
Title : Racial Disparities in Clinical Research in Oncology - Challenges and Opportunities
Racial disparities in clinical oncology are pervasive and exist in all areas of oncology, including clinical tirals, academic oncology, and grant funding. The NIH revitalization act of 1993 was created to encourage investigators to increase accural of underrepresented minorities (URMs) and women to clinical trials. The proportion of URMs in therapeutic trials has actually declined over time, suggesting that measures to improve disparities have been largely unsuccessful. Several patient factors, clinician factors, and system factors act at barriers. Opportunities to improve disparities include expanding access to healthcare, increasing workforce diversity in oncology, and shifting emphasis and availabilty of therapeutic clinic trials from large academic centers to community-based programs.
Susan Tannenbaum, M.D. (UConn)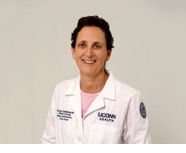 Susan Tannenbaum is a board-certified Hematologist-Oncologist and Associate Professor at UConn School of Medicine since 2003. At the beginning of her career, she was at the NIH for 9 years with a focus on endothelial cell biology after which she worked in the Indian Health Service, Shiprock, NM. She then spent 7 years in an academic private practice in Pasadena, California and ultimately moved to Connecticut. She grew the Clinical and Translational Breast Program there as the Medical Director which ultimately received full NAPBC accreditation. Although she participated as Principal Investigator in cooperative group trials, her focus has been in translational research. Studies in the neoadjuvant breast cancer setting include novel imaging and biomarker studies predicting pathologic response. Currently she is collaborating with a Biotech Company utilizing a Florescent Light Sheet Microscopy technology in the metastatic and neoadjuvant setting characterizing circulating tumor cells. She has additionally co-authored many University-wide studies directed towards quality of life in cancer survivors with topics including cardiotoxicity, symptom distress and radiation fatigue. As a reviewer for, The Journal of Racial and Ethnic Health Disparities and as a participant in the NMA/Cobb Institute, Expert Consensus Panel on Breast Cancer Disparities Elimination, addressing health care disparities is a major interest. She currently serves as the Division Chair and Fellowship Director of the UCONN Hematology-Oncology Division and Medical Director of the Neag Comprehensive Cancer Center at UCONN.
Time : 2:05 - 2:25
Title : Globalization of Cancer Clinical Trials and Its Impact on Participation of Underrepresented Minorities (URM)
A major focus of the Institute of Medicine, the NIH and the FDA has been to enhance Health Equity for URM. In order for this to occur, people who are in clinical trials should represent the populations most likely to benefit from the drug studied. In an effort to reduce costs and expedite accrual, cancer clinical trials have increasingly used research sites outside of the United States. Many sites are in regions with very different population demographics compared with those in the US. Racial and ethnic minorities are consistently under‐represented in global oncology trials especially when compared to their disease-specific incidence and mortality in the US. The utilization of sites outside the US for these studies is therefore associated with a widening of the enrollment disparity gap rather than a reduction. Most of these trials are industry sponsored and although there are recommendations placed by the FDA to enhance URM participation, there are no requirements. This talk will focus on this information as well as interventions aimed at addressing enhanced diversity in these global trials.
Alyce Adams (Stanford)
Time : 2:25 - 2:45
Melissa Bondy (Stanford)
Time : 2:45 - 2:53
Susan Halabi (Duke)
Time : 2:53 - 3:01