Under-represented communities remain unseen and under-reported in clinical trials. Dr. Bruegl will use her research experience with American Indian/Alaska Native communities in the Pacific Northwest to highlight essential components to build relationship and participation in research endeavors. Participants will gain knowledge to apply to their own research efforts.  
AMANDA BRUEGL, MD
Oregon Health and Sciences University
Amanda Bruegl is a Citizen of Oneida Nation and is a Gynecologic Oncologist in the department of OB/Gyn at Oregon Health and Science University. She completed her fellowship in gynecologic oncology at MD Anderson Cancer Center and has been at OHSU since that time. She is the Associate Director of the Education Core for the Northwest Native American Center of Excellence, a recipient of the Robert Wood Johnson Harold Amos Minority Faculty Development Award, and has research interests in gynecologic cancer prevention in American Indian/Alaska Native women.
Discussants : Neby Bekele, PhD
Vice President, Biostatistics and Clinical Data Management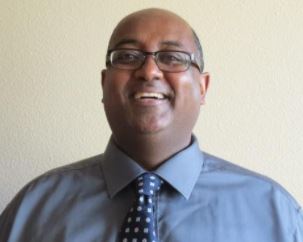 Neby Bekele is Vice President, Biostatistics and Clinical Data Management at Exelixis. He is responsible for Biostatistics, Statistical Programming, and Clinical Data Management. Neby joined Exelixis in September of 2020.
Prior to joining Exelixis, Neby was Vice President, Biometrics at Gilead Sciences where he was Head of Biometrics (Biostatistics, Bioinformatics, Statistical Programming, & Clinical Data Management).
Prior to Gilead, he was on the faculty at M. D. Anderson Cancer Center for 10 years where he began working as a research assistant professor in 2001 and rose to the rank of tenured associate professor. During this period, he collaborated with researchers in Leukemia, Neuro-Oncology, Neuro-Surgery, Thoracic/Head and Neck and Thoracic/CV Surgery.
Neby's research includes applications of novel design and analysis methods to solve questions related to the design and analysis of clinical trial data. Other specific areas of interest include the application of Bayesian methods in clinical trials, adaptive designs, missing data problems and multiple testing procedures. He has 120+ collaborative/methodological peer-reviewed manuscripts and book chapters.
Neby earned his Ph.D. in statistics from Baylor University. Prior to studying statistics, he earned degrees in Economics (BA) Political Science (BA, MA), and Urban Planning (MCRP). In addition, he is fluent in Spanish (having lived in Mexico for 8 yrs). This background has given Neby a unique global perspective which has served him well in a variety of cross-cultural contexts. In addition to this background, Neby has an interest in exploring and understanding the intersection between critical thinking skills, communication skills, and foundations of clinical trial design and practice to improve Biostatistical decision-making.